Portable Tool Cabinet With Six Drawers,Equipped With 339 High-Quality Tools,Each Drawer Is Equipped With Two Keys
SKU:
Availability:
Free international shipping ( est.delivery: 7-14 days )
Bulk Pricing:
Below are the available bulk discount rates for each individual item when you purchase a certain amount
Buy 2 - 2 and get 10% off
Buy 3 - 3 and get 15% off
Buy 4 - 4 and get 20% off
Buy 5 or above and get 25% off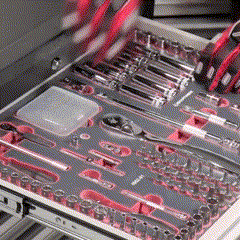 6-layer tool
Classification of 6 EVA3 high-density foam pallets, and anti-overturning carbon with laminated PVC surface type.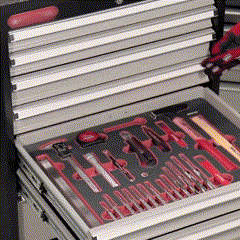 Tools include
Screwdrivers, hammers and measuring tools, pliers, wrenches, sockets, files and cutting tools, they are compatible with high-tech and racing carts.
Specification:
Number of floors|: 6 floors
Product size: 68×46×91 cm.
The internal dimensions of the drawer are 7: small drawers of 56.5 × 40 × 6.5 cm.
The internal dimensions of the drawer 1: A large drawer of 56.5 × 40 × 14.5 cm.
Color: Grey/anthracite hammered powder coating.
Packing size: 74.9×52×99.4 cm.
Weight: 61.8 kg
Easy to slide:
All drawers are equipped with sturdy ball bearing guides and double non-slip pad.
With telescopic ball guide, ball bearing wheels, two fixed, two rotating, and brakes on two wheels.
Can be locked:

It can be locked with a key. Delivery includes 2 keys. Fully detachable drawer locks of every drawer.
Central lock.
Configuration:

Equipped with 339 high-quality tools;
Combination wrenches of 6 to 22 mm;
1/4″ hex socket from 3.5 to 14 mm;
1/2″ hex socket from 10 to 32 mm;
EVA module made of high-density two-color foam material;
Special space for the torque wrench in the first drawer.